Free Skype Call Recorder

Freeware Skype Call Recorder. This program is distributed free and has no functional limitations. The program must have for everybody who is using Skype to make business calls, especially if you are a SOHO. Making call could cost nothing, but the information itself could be invaluable for you, your business and your reputation. Recording calls is simple step to be on a safe side.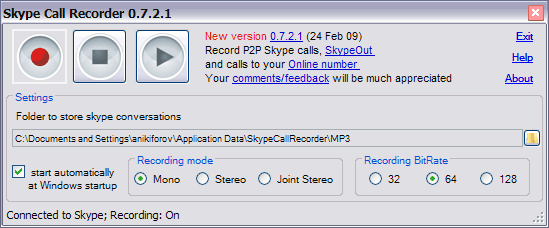 Skype Call Recorder seats in a system tray, monitors skype activity and automatically starts recording when you making or answering a call. It could record separately simultaneous calls, and correctly recording conferences. Conversations are stored in popular and compact mp3 format. You can easily play, copy or email conversation records.
Main features of Skype Call Recorder:
- Free and no functional limitations
- Automatic recording calls and conferences
- Compact and popular audio mp3 format for conversation recordings
- Seamless and easy installation and Skype integration
- Simple user interface

Parental Skype recorder - stealth Skype recording solution.


Parental Skype recorder:
Automatically records calls
Saves to compact mp3 files
Supports all windows versions
Free trial
Skype monitoring tool for parents and employers Parental Skype recorder